SoftBed Comfort Stall Mattress
Your Orthopedic Stall Flooring Solution
NO INSTALLATION
Ready for your horse to enjoy – simply place it in the middle of your stall.
DURABLE
5 Year Warranty, 20+ years expected lifespan.
SAVES
Save on bedding material, labor, and waste removal.
THERAPEUTIC BENEFITS
Supports joints, tendons, ligaments. Reduces hock sores and wind puffs
HORSES LOVE IT
Provide a comfortable resting place for your horse.
Say goodbye to bedding woes!
With SoftBed Comfort stall mattresses, now you can easily provide orthopedic padded stall and paddock bedding to ensure a comfortable resting and recovering area for your horse.  And, they are easy to lay down without any INSTALLATION!
SoftBed Comfort padded horse stall mats:
Provide joint support and overall musculoskeletal wellbeing
Prevent sores in hocks, fetlocks and knees
Are used in clinics treating founder and laminitis
Deliver comfort and quality rest
Create a healthier living environment
Come with a 5-year warranty, expected lifespan of 20+ years.
Shop Now
For SoftBed Stall Mattress Quotation or Order
Please fill out the below form and someone from our team will be in contact shortly.
Therapeutic Benefits of SoftBed Comfort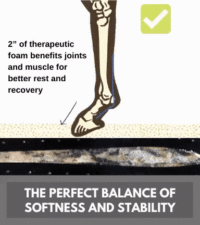 With SoftBed Comfort stall mats, owners of performance horses report that sores on hocks, fetlocks and knees are gone within days and wind puffs are greatly reduced. The orthopedic foam provides cushioned anti fatigue support to joints, ligaments and tendons, and eases the pain of horses with chronic laminitis. Very soft and therapeutic, these 2 inch foam padded horse stall mattresses encourage horses to lie down and are the mattress of choice at equine podiatry centers.
No Installation Required
We recommend one SoftBed Comfort stall mattress per 12' x 12' or 12' x 14' stall. Simply place the SoftBed on top of your existing floor into your stall or paddock. A small amount of shavings can be added around the SoftBed to provide a urinating spot fore the horse, which will help the middle of the stall stay dry and clean.
Unlike other therapeutic stall flooring, SoftBed Comfort does not require any installation, and can easily be moved to a different location. This makes SoftBed Comfort stall mattresses the perfect solution for owners who board and would like to provide comfort to their horse, while having the flexibility to move their bedding  to a different stall if needed.
Ultimate Durability
The SoftBed Comfort stall mattress is 6 feet wide, 8 feet long, and weighs 220 lbs, heavy enough to prevent horses from shifting or moving it.
The SoftBed's 2-inch foam core is protected by two rubber mats with a textured surface that prevents slipping. The rubber matting is sealed using a vulcanizing process, protecting the SoftBed's foam core from moisture.
Your SoftBed Comfort comes with a 5 year warranty and a 20+ years expected lifespan.
Easier Cleaning and Improved Environmental Health
The soft, flexible surface of SoftBed Comfort mats provides your horse with a durable and comfortable bed, equivalent to 4-6 inches of shavings. They greatly improve your horse's wellbeing and reduce the amount of bedding material needed, making mucking out stalls much easier and less time consuming.
Generally we recommend placing some shavings around the SoftBed only. But, if you choose to cover the SoftBed with a thin layer of shavings as well, any wet shavings on top of the SoftBed can be easily removed. Unlike regular stall mats, which take on the urine's ammonia smell, the rubber material of the SoftBed does not absorb any bacteria from urine and will remain clean and odorless. The SoftBed Comfort will prevent urine pits and holes in your bedding, while improving air quality and insulation of your stall.
About Footing Solutions USA
When you choose Footing Solutions USA for your arena footing and modern barn products, you are not only getting world-class quality but also world-class experience. Whether you're looking to upgrade your footing or integrate additional style and safety into your barn and arena, we are here to provide you with superior results. Contact us today and discover the Footing Solutions USA difference.